10 Trendiest Fashion Blogs to Follow in 2022
When it comes to fashion, visuals are key. It's no wonder, then, that many lovers of style turn to Instagram and fashion blogs to get their fill of all things fashion.
Instagram is great when it comes to OOTDs—outfit of the day—and quick style inspirations, but blogs are where the serious fashionistas go to write about trends, advice, and the latest fashion innovations. Not feeling particularly stylish today? Fashion blogs can give you inspiration for dressing well even on those lazy mornings. Got your eye on this season's hottest trends? These blogs are great for helping you figure out which clothing pieces and colors suit your frame. They can also provide you with ideas about mixing and matching pieces to create a dozen perfect looks without breaking the bank.
The rise of fashionable Instagram influencers and stylists paved the way for the bloggers on our list to have a significant presence online. Many of these bloggers started out on social media, and their keen eye for style did not go unnoticed by their followers. While they have their own website, most of them continue to be active on Instagram and YouTube.
---
10 Trendiest Fashion Blogs to Follow:
---
1. Atlantic-Pacific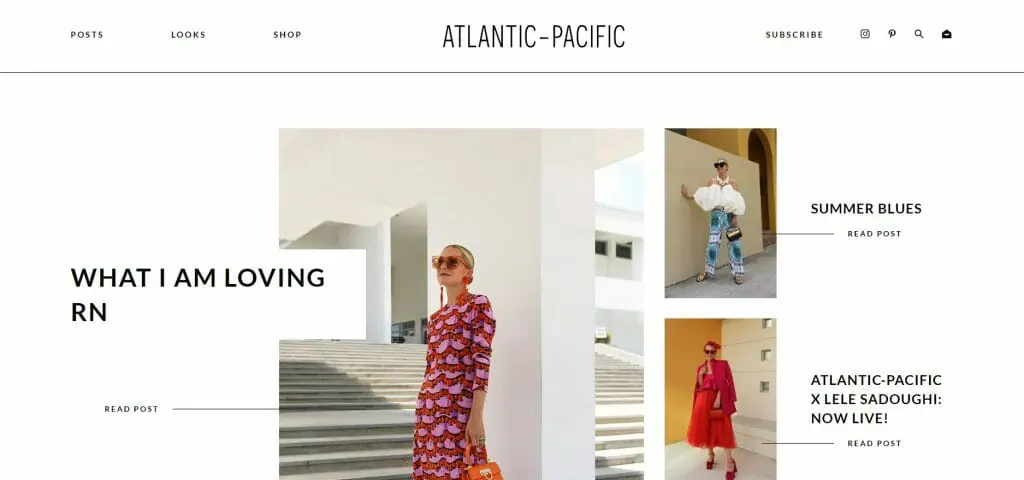 Atlantic-Pacific creator Blair Eadie has been in the fashion industry for several years now. Having worked for companies such as Tory Burch and Gap, she has the insider's experience in how the industry has evolved over the years. She started Atlantic-Pacific in 2010 to showcase her own fashion aesthetic, which she describes as "east-coast-meets-west-coast." She has built up a significant social media following, including over 1.7 million Instagram followers.
She has worked as an influencer with many brands, including Nordstrom, Amazon, Sephora, CoverGirl, Gucci and many more. She has also collaborated on global campaigns with luxury brands such as Vogue, Elle, and Harper's Bazaar, among others.
A quick perusal of her website shows eye-catching images of the latest trends that she loves and her tips on what to wear and where to get them. What's also great about Atlantic-Pacific is the regular updates of FAQs that Eadie posts, where she responds to questions she receives from fans and followers.
---
2. The Daileigh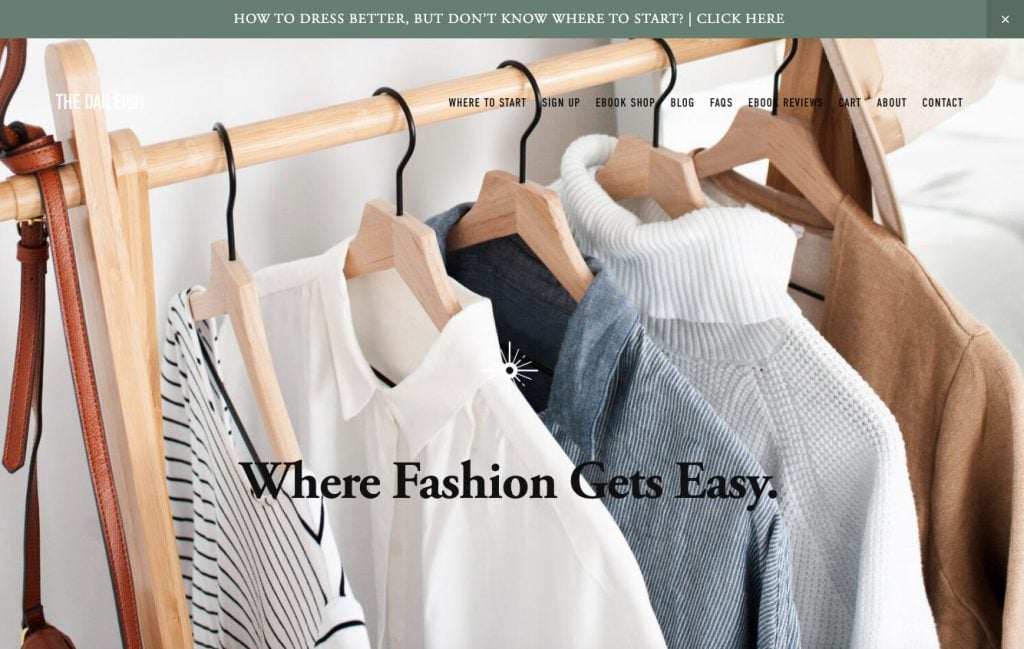 The Daileigh's Ashleigh Hutchinson wants her readers to build their perfect closet. She aims to help women of all ages find or create a style they love. In particular, Ashleigh wants older women to feel confident in their own style. She wants to break the assumption that some trends are suited only to a particular age group. Ashleigh's philosophy centers around the notion that "age is only a number."
Ashleigh's blog is full of advice for the regular woman to make better fashion choices, whether it's "Dressing Better With the Clothes You Have" or starting a capsule wardrobe. Along with her blog posts, she has also published e-books and has even held online webinars to help people improve their fashion sense.
Ashleigh frequently posts "How To" articles, often adapted to target a particular segment of her audience. She has written posts that are aimed at women of varying ages
---
3. Egg Canvas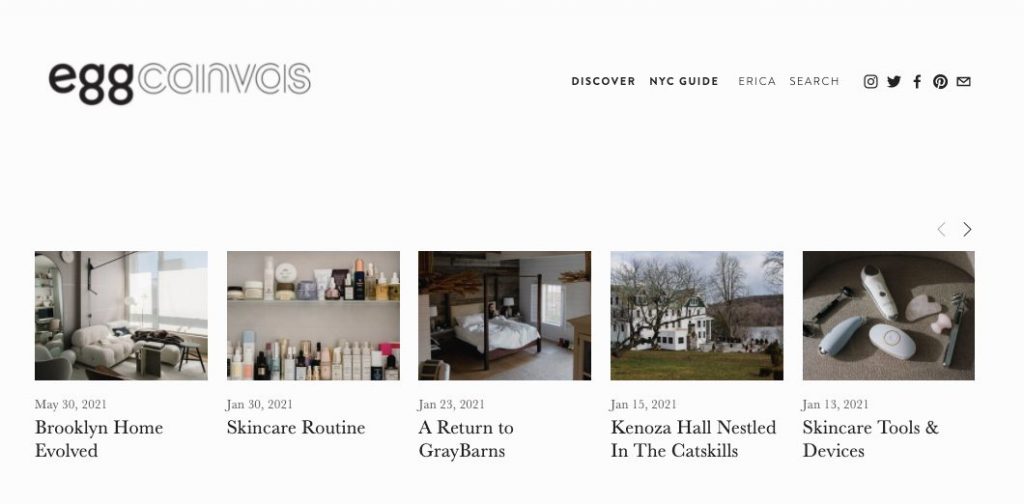 The whimsically named Egg Canvas is the brainchild of Erica Choi, a design director and photographer based in New York.
Why the name "Egg Canvas"? Erica was inspired by her Korean childhood nickname, which means egg, while "canvas" is the medium with which art is created. "Egg Canvas," therefore, is her life—creating beautiful things each day on a blank canvas.
A licensed esthetician and graphic design graduate, Erica has a discerning eye for visuals. The posts on Egg Canvas have beautiful photos that are accompanied by short texts.
The blog includes a section showcasing the latest New York Fashion Week as well as a guide around NYC.
---
4. The Fashion Guitar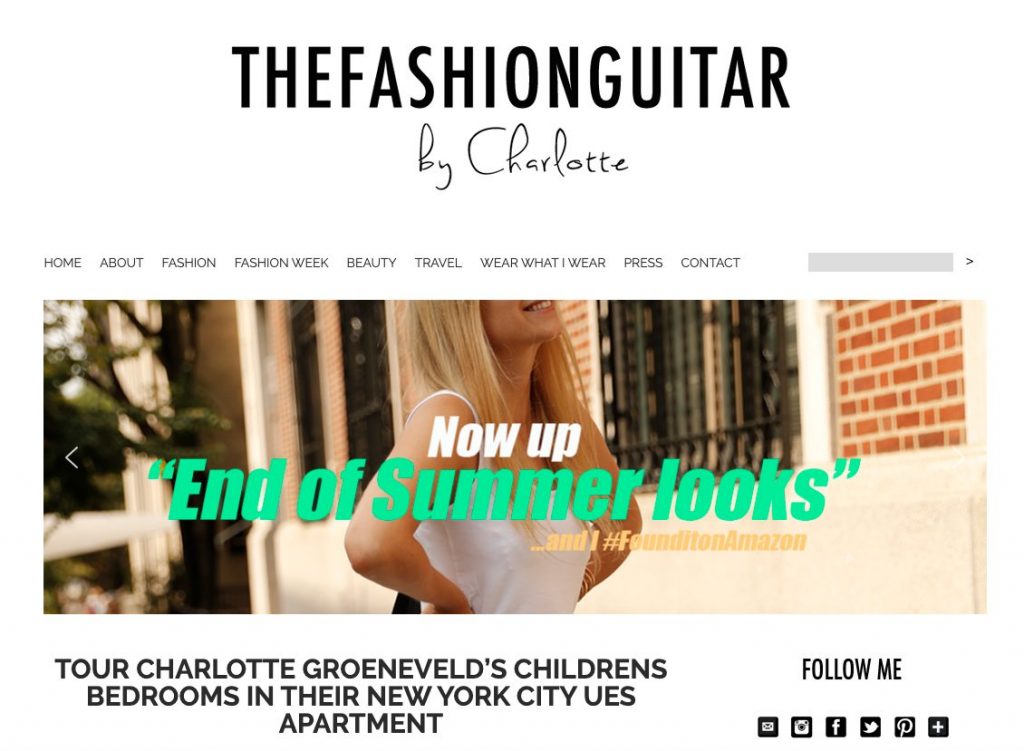 The Fashion Guitar is the online blog of Dutch-born Charlotte Groeneveld-Van Haren. Now based in New York, she is a mother of two and runs her blog full-time.
Charlotte had worked with fashion blogs in one of her former jobs until she decided to create one herself. As a personal style blog, The Fashion Guitar showcases Charlotte's own fashion sense. When she became a mother, the posts naturally featured her maternity and motherhood style, and it became a significant part of the website. Charlotte has worked with her favorite brands and designers, and loves collaborating with them.
---
5. Girl With Curves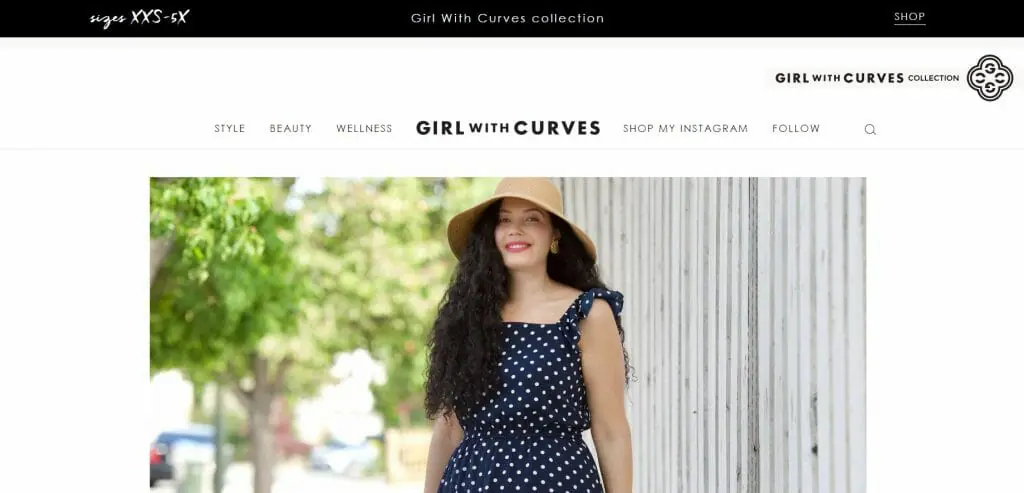 Let's face it—the body type of models is far from reality. Slim people do exist in real life, but there are women with bigger sizes who can look just as good. People come in all shapes and sizes, but many of us have been conditioned to believe that only one body type is ideal for fashion.
This is the mindset that Girl With Curves hopes to shatter. Tanesha Awasthi created Girl With Curves in 2011 to represent everyday people who aren't a size 0 or 2. The blog describes itself as an "award-winning blog made possible by people who believe women deserve to look and feel beautiful, regardless of weight, shape or size."
Since starting the blog, Tanesha has become a favorite plus-sized fashion blogger in the industry. She hopes to help women—particularly bigger sized women—build their confidence and self-esteem through fashion.
The blog includes trends, style tips, beauty advice, plus parenting and wellness. Their hashtag #StyleHasNoSize emphasizes their belief that fashion and style are for everyone, regardless of their body type.
In 2021, they launched the Girl With Curves at QVC collection, featuring pieces with true size inclusivity.
---
6. Harper & Harley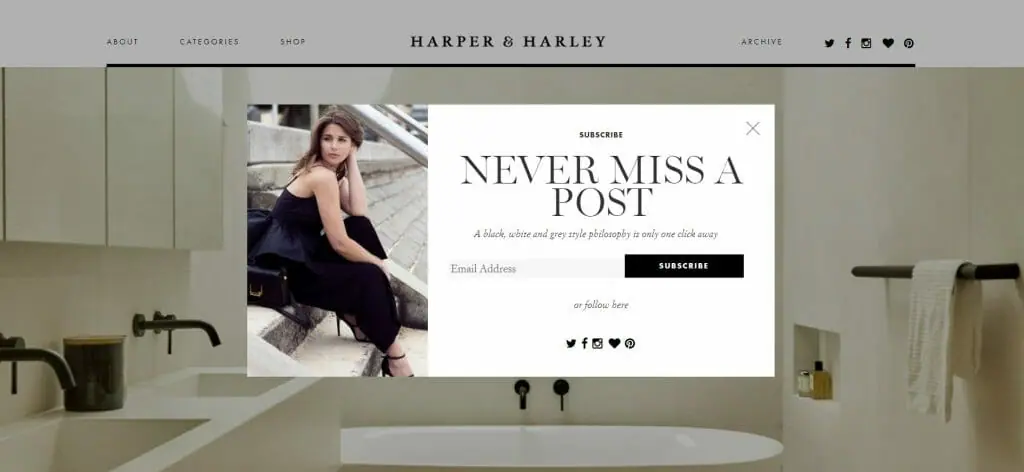 Fans of the minimalist aesthetic will love Australian blogger Sara Crampton's website Harper & Harley. Her "less is more" philosophy is unmistakable in her posts, from her fashion to her home design. Since starting the blog in 2008, Sara has made a name for herself as the go-to brand for the classic, timeless, and minimalist wardrobe.
Sara has appeared on the Australian reality show Fashion Bloggers. She has also worked with global fashion brands such as Gucci, Estée Lauder, Uniqlo, and Nike. Sara's influence has also extended to non-fashion brands, and she has also been tapped by Jaguar, YSL Beauté, L'Oreal, and Dyson.
If you love whites, blacks, and grays, head on over to Harper & Harley for a look at Sara's minimalist but super trendy fashion style. Some of her posts include:
That Blazer Life

A Summer Staple

White Shirts and Blue Jeans Never Go Out of Fashion

My Pregnancy Style
---
7. Hello Fashion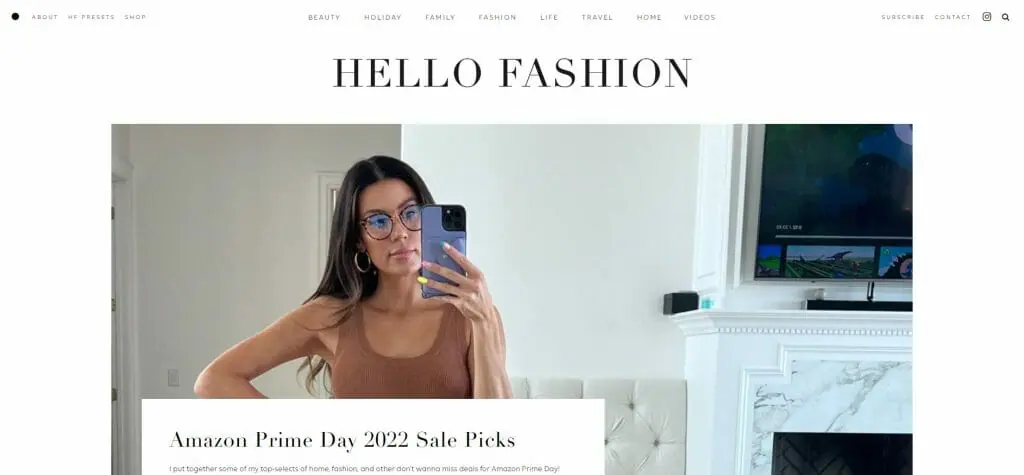 Hello Fashion by Colombian-American blogger Christine Andrew features posts covering everything from fashion to beauty, family, lifestyle, and travel.
Christine created her own fashion brand called ILY Couture in 2011. In the same year, she started Hello Fashion, initially as an online diary where she shared her favorite fashion finds as well as helped customers wear and style their ILY Couture buys.
Christine is a true style icon, having appeared on Vanity Fair's Best-Dressed List. Ironically, she was rejected from a fashion design school—it was this rejection that drove her to strive in the fashion industry.
Some recent posts in Hello Fashion include:
The Secret to Making Your Athleisure Look More Luxe

4 Ways to Wear a Button-Up Shirt

Casual Valentine Looks
---
8. My Fash Diary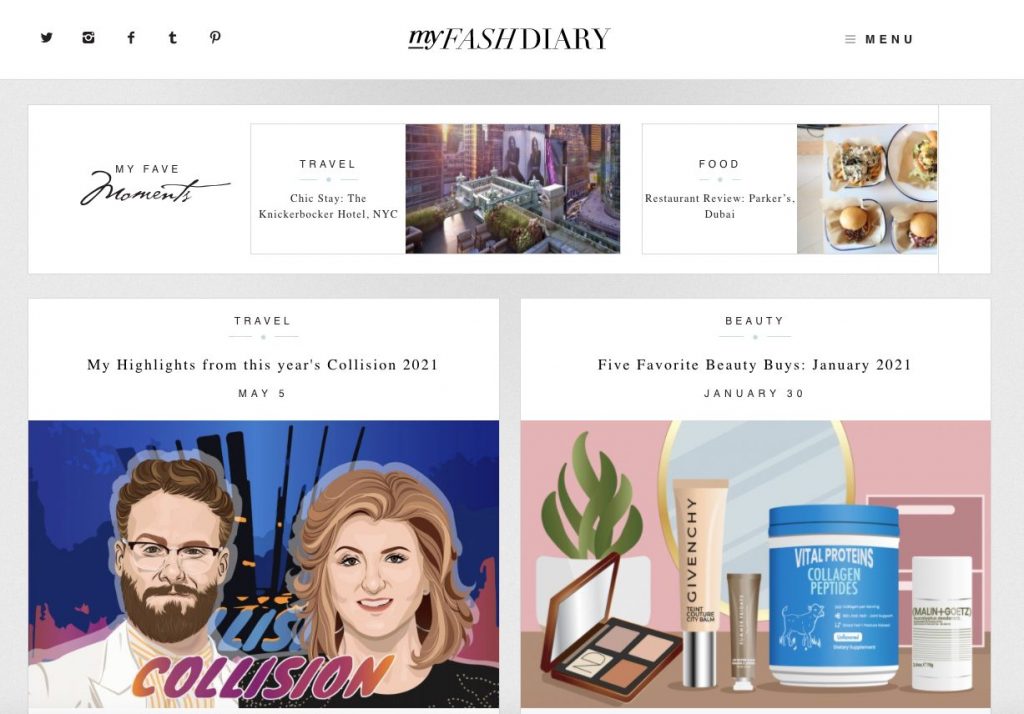 Blog creator and editor Tala Samman defines fashion as "what others declare is in," while style is more personal—"what you declare is in." My Fash Diary is Tala's personal style diary, often posting about the things that she loves, what she wears, the hottest trends in Dubai and in cities where she travels, and others.
Dubai-based Tala, who was born in Chicago and has Syrian roots, gives us a glimpse of the fashion and styles in the Middle East. Although the blog's name implies a heavy leaning toward fashion, Tala also posts about beauty, food, and travel.
My Fash Diary has gained international recognition, receiving nominations for Marie Claire, Twitter, UK Blog, and Ahlan! Magazine's Best at the Dubai awards. She was cited in 2011 as one of Dubai's Hot 100, and has been recognized in prestigious publications like Grazia UK, Grazia Middle East, Harper's Bazaar Arabia, and Marie Claire Middle East.
---
9. One Dapper Street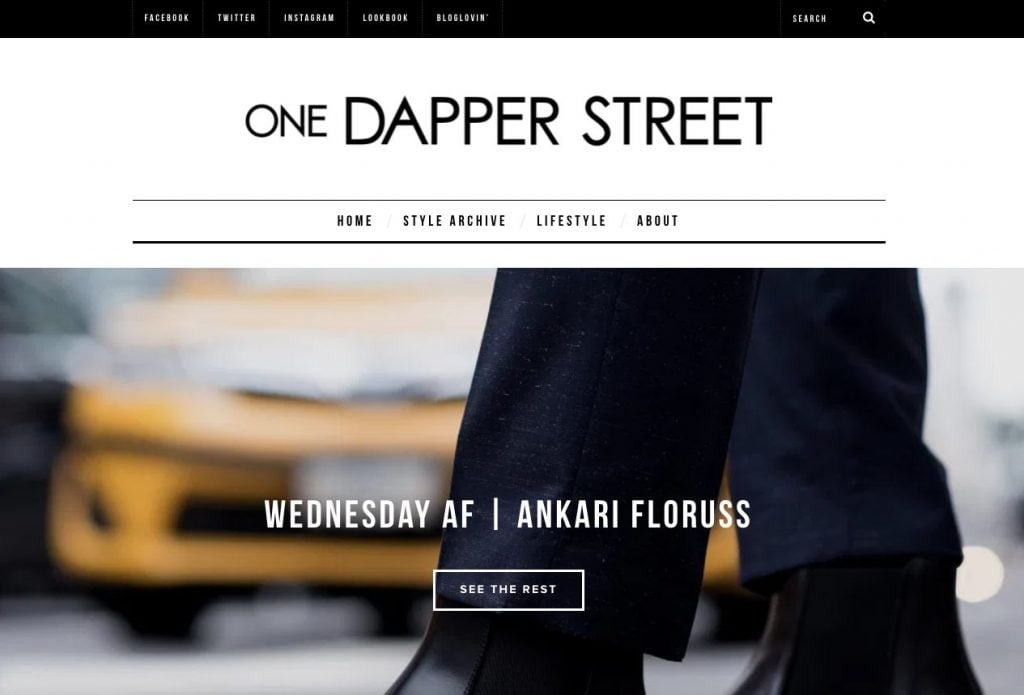 We often think of fashion blogs as exclusive to women, but fashion is for all genders. One Dapper Street is one blog that focuses on men and aims to change how they think about fashion. This blog is the online home of Marcel Floruss - "a German dude who loves fashion and all that goes with it." Fashion is Marcel's passion, bringing him from Germany to New York City.
A former model, Marcel went to fashion school in New York. While studying for his bachelor's degree, he decided to do something about the way men dress and how they perceive fashion as feminine.
In One Dapper Street, Marcel has combined his two other passions—photography and shopping. As the name suggests, the blog offers a mix of dapper and street styles for the modern man.
The blog includes numerous highly visual articles on a variety of style and lifestyle topics geared toward men.
---
10. Grasie Mercedes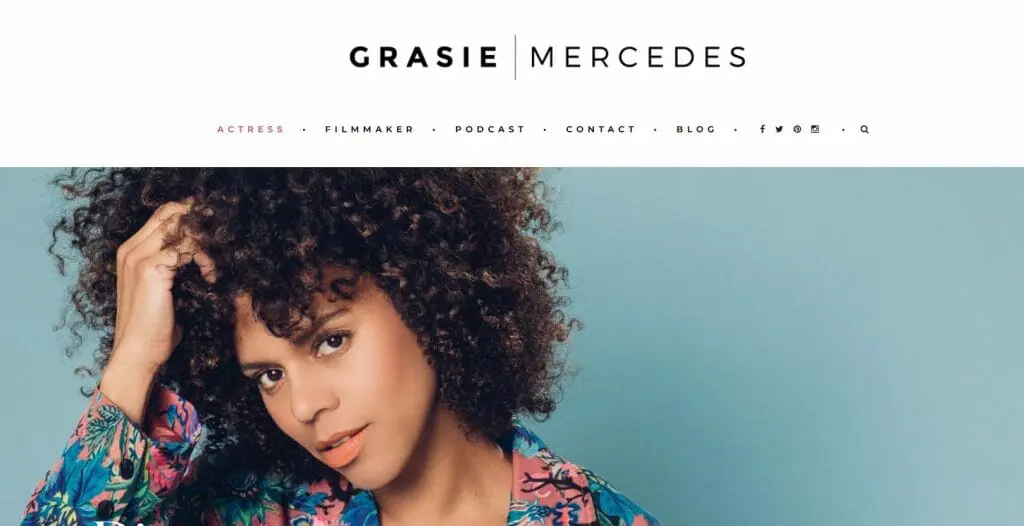 Multi-hyphenated creative Grasie Mercedes is not your usual fashion blogger. She is an actress, writer, filmmaker, director, and podcast host who also happens to have a rocking sense of style. Her website, simply named Grasie Mercedes, features her work in the entertainment industry. The blog section is where she posts about fashion, travel, beauty, and lifestyle.
You can find luscious photography in her posts. You will see Grasie sporting the latest fashion trends and her favorite outfits.
One might consider Grasie's website as her online portfolio, where her huge creative talent is showcased. Her posts about fashion prove her worth as a stylist and a blogger.